EPIRB MP-406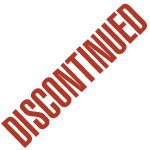 MP-406 Float Free Satellite Emergency Position Indicating Radio Beacon (EPIRB) complies with the IMO requirements for COSPAS-SARSAT system and is a mandatory item in the GMDSS (Global Maritime Distress Safety System). It provides: quick identification, because each beacon has unique code, positioning to within one nautical mile with short response time At depth of 4 meters the beacon is automatically activated to transmit distress signal (position and identity).
MP-406 Float Free has wheel-mark type approval. Download.
Emergency position radio indicating beacon operating within COSPAS-SARSAT system is one of the most effective means for distress signals transmitting among the GMDSS equipment such as Inmarsat, SART or portable radio station GMDSS with lithium-type battery.
You would like to know why? First of all this device is free float version – it's floating and transmiting the distress signals automatically. The other devices are fixed and immovable (like Inmarsat devices), placed in safety boats or set down in pilot room.
For another thing, distress signal transmission is performed via two frequencies, except space satellite signal on the frequency of 406MHz, EPIRB also operates on the frequency of 121.5Mhz (so-called home beacon signal – since 2009 satellites do not detect this type of the signal. But all the planes and vessels nearby in the zone of action are able to detect distress signal – which is by no means an important option if the vessel is in distress.
Thirdly, this device is more powerful, as most of the radio distress beacons are capable to work about 48 hours minimum (at t 20°C – the time period is much more).
EPIRB MP 406 has certificate of conformity to the European standards (GL – wheel mark) and certificate of the Russian and Ukrainian marine register.
Today's volume weight of the EPIRB MP-406 is about 970 gr. EPIRB is enclosed in container which throws the device automatically in case of immersing on the depth of 1.5 - 4 meters. Till 2007 the device was in open container and by reason that EPIRB of the COSPAS-SARSAT system was placed in the open space on the vessel deck it has experienced natural and physical actions which led to the external injury of the device.
This device is been manufacturing by Musson Marine Ltd since 2004 and appears to be 4th generation of the COSPAS-SARSAT beacons working on the frequency of 406MHz. From the very beginning of the manufacturing this device was intended for sales abroad. This device main advantage is affordable price and reliable service maintenance. All repair pieces which are to change within the service maintenance is hydrostat Hammar H20 which is available in all the service shops all over the world and the power supply unit for EPIRB 406 with SAFT batteries. That's all you need! Easy and affordable service maintenance is very profitable for many service companies which can replace all the repair pieces at any time.
General Specification:
Message format: MMSI, Serialised, Call Sign
Programming: Easy remote programming
Temperature: Opearting: -30°C to 55°C Class 2
Storage: -50°C to +70°C
Battery: Lithium, to be replaced every five and a half years, 48 hours operation
Hydrostat: Hammar H20
Weight with bracket: 2.2kg (Including the weight of Hammar 20)
Weight with bracket: 2.0kg (EPIRB weight - 1kg, Bracket weight - 1kg)
Warranty period: 5 years
Technical Specification:
406MHz Transmitter
121.5MHz Transmitter
Frequency 406.028MHz+/-1kHz
Frequency 121.5MHz+/-3KHz
Output Power 5 Watts +/-2dBOutput Power 5 Watts +/-2dB
Output Power 50mW
Modulation Biphase 1.1 +/-0.1 radians
Modulation AM, or sweep tone
Data Encoding Bi phase L
Strobelight
Antenna External vetical whip
Effective intencity >1 candela
Flash Rate <23 flashes per minute
Delievery set:
EPIRB MP-406 with power supply unit - 1
Hydrostat Hammar H20 - 1
Closed case - 1
User manual - 1
Package - 1
Conformance to standards:
IMO Resolutions A.696(17); A.810(19) as amended by MSC.56(66), MSC.120(74).
ITU-R M.633-2:00-05; ITU-R M.690-1:95-10; MSC/Circ.862.
IEC 61097-2:02-09; IEC 60945:02-08.
ETS 300 066 V1.3.1:96-05, EN 60945:03-07.
No files avaliable for this product.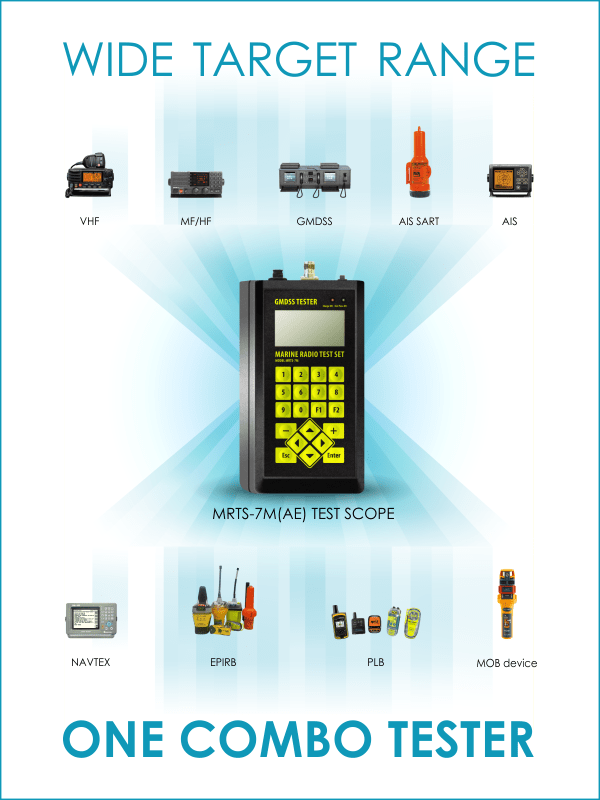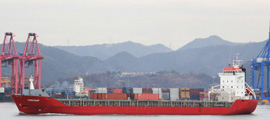 Our company offers a range of maritime test devices intended for complex testing of GMDSS Equipment in accordance with IMO and SOLAS requirements.
Our test devices are capable to test automatic identification systems (AIS), AIS-SARTs, all 406MHz Cospas-Sarsat beacons, 9GHz search and rescue transponders (SART), and MF/HF and VHF GMDSS radios with DSC.
Testers are designed for ship surveyors, beacon suppliers, classification societies and administrative authorities.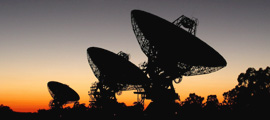 Our company offers a wide range of electronic Design services in field of Radio frequency (RF) engineering in maritime and aviation areas.
Applying our experience to RF design and manufacturing, we offer PCB engineering and development services to companies within such various industries as telecom, commercial, industrial, aerospace and military.
Our engineering services includes design and manufacturing in range from product concept and PCB design to production, assembly, and testing.